Powerparts Covid-19 lockdown warriors - April 2020
Powerparts leadership team has wider concerns for customers associated with Perkins brand and those performing essential duties, with a view to support such end users Powerparts team has drawn a strategy to support customers with the help of lockdown warriors.
Warriors are senior engineers capable of guiding online or by visiting site, interacting with ASM/SM twice a week on area reviews.
Recent lockdown support was a visit to restore 2x4008 TAG2A units at "Indian Oil Sky Tanking supporting essential cargo fueling operation at Delhi International Airport.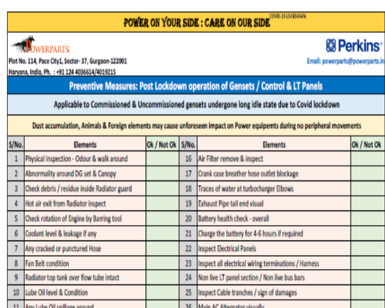 .
Focus post lockdown:
To encourage EP & Industrial customers about post lock down measures and to light upon unforeseen risk involved with equipment's undergone long idle state during lockdown, Powerparts team has created a template containing crucial check points to be verified prior start of sets.